My name is Martyn Parsons and I have lived all my life in the Black Country, the industrial heartland of England's Midlands. I have had a passion for local history for as long as I can remember.
I was born in Woodsetton, Sedgley in 1942 and moved to Tipton, nearby, after my marriage in 1966. I retired in 1995 shortly before my wife died and found I then had the time to thoroughly research my family history, starting with the wealth of family documents I had found in my parents house after they had died..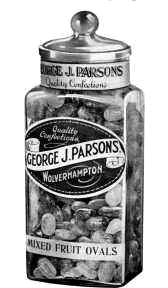 My Father's Side
My great grandfather, George Tonks Parsons came to Wolverhampton sometime between 1892 and 1896. He was a master confectioner and traded from Victoria Street and the Retail Market in 1896. By 1930 he had prospered enough to have shops in Princess Street, Victoria Street, Worcester Street and Piper's Row, my Grandfather George James Parsons and my Father George Harold Parsons also being in the family business. The wartime sugar rationing of 1939 forced the closure of all the shops by 1941.
George Tonks Parsons was born out of wedlock to Jane Parsons of Upton in the parish of Sibson, Leicestershire and George Tonks of Ratcliffe Culey, Leicestershire. His parents got married 4 years after he was born and had four more children all daughter's, only two survived childhood and they never married. When the sisters both died at Ratcliffe Culey in 1950, there were found a number of envelopes with 1860's Indian stamps on them plus some 1860's Indian coins which leads us to believe that George Tonks was possibly in India when his son was born.
George Tonks Parsons married Mary Bolstridge also of Ratcliffe Culey in 1885 and my Grandfather George James Parsons was their only child. George James Parsons married Margaret Parsons of Loughborough in 1911. She was the daughter of Joseph Parsons, the younger brother of his Grandmother Jane Parsons, and Maria Huddlestone who was born in Melton Mowbray Leicestershire.

Go to Ancestor Tree
My Mother's Side
My Mother Caroline Hill was born in the Alma Street area of Wolverhampton in 1910 to Harriet Hill, father unknown. Her mother died in 1916 aged only 28 and her Step Father John Henry Rhoden in 1920 of TB. She was placed in the cottage homes at Wednesfield which was in fact part of the Union Workhouse. She would never speak of her childhood but I have found a considerable amount of relevant papers since her death in 1992.
The Hill family were all Key Smiths to the lock industry operating in 1871 from premises which are still standing in Thorneycroft Lane Heath Town Wolverhampton. They can be traced to Wisemore, Walsall as Lock and Key Smiths in the early 1800's.
An Interesting connection is Harriet Hill's Grandmother, Caroline Baldwin. She was the granddaughter of Levi Baldwin a Black Musician who was born in North America.
Research into this side of the family is still in it's infancy.

Go to Ancestor Tree