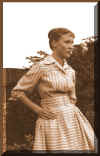 My wife, Margaret Linda Ann Gulliver daughter of Abraham Gulliver, (everyone called her Lyn), was born in Tipton in 1944. Gulliver is an unusual name for this area and was one of the reasons for starting this research, family tradition said that the Gullivers originated from Cornwall but this proved incorrect. Her Mother was Polly Greensill, the Greensill name, although nationally quite rare, is relatively common in the Black Country. The family was extremely close knit, all Lyn's ancestors from Tipton married within the town, usually living just a few streets away.

See ancestor tree for details of Tipton connections
Her Father's Family

Lyn's Great Grandfather, George Gulliver was born in Hethe near Bicester, Oxfordshire in 1836. He was descended from the ancient family of Gullivers that had lived in the Banbury area of North Oxfordshire and the adjacent areas of Northamptonshire and Warwickshire since at least the 1500's. The family is mentioned by swift in his preface to the first edition of Gulliver's Travels. George married Emma Savin in Hethe in 1855 arrived in Oldbury, Worcestershire in about 1856. Emma died of TB in 1863 and in 1866 George married Mary Ann Stockton, the daughter of William Stockton, keeper of the "Old Burnt Tree Inn" and his wife Sarah Spittle. Mary Ann had a son, Thomas, born 1860 from an earlier relationship who assumed the surname of his stepfather.
Her Grandfather, George Henry Gulliver born 1876, married Elizabeth Duffield the daughter of Abraham Duffield and Eliza Jane Barnes in 1896, her father Abraham being born in 1904. Abraham Gulliver married Polly Greensill the daughter of Samuel Greensill and Phoebe Langford in 1925.
Her Mother's Family
The Greensill family had been in Tipton since the early 1800's at least. The family were miners and the first records I have traced are those of Lyn's Great Grandfather, Thomas Greensill who was born in 1823 to Thomas Greensill and Nancy Whitehouse. He married Phoebe Talbot from Princes End in 1846 and her Grandfather Samuel Greensill was born in 1865. Samuel married Phoebe Langford, daughter of William Langford and Eliza Caswell in 1891 and her mother Polly was born in 1902.